NAKID & Volo City Bring the Fun this Spring!
We are pleased to announce a brand new partnership with Volo City, a league provider for our hometown DC! 

This new partnership will bring you MORE kickball & volleyball options on the Mall. PLUS Volo is bringing back a few sports that have been missing from the NAKID line-up like soccer & flag football.

Membership in Volo City includes a ton of additional perks like BOGO pitchers specials, flip cup competitions, lower roster minimums, and a kick-ass charity program for the benefit of kids!

Get with your friends, pick your league & sign up for the upcoming spring season TODAY!


Why Play Social Sports?
Sure - social sports are fun to play. But there's a lot more to these leagues than brightly colored t-shirts and flip cup outings!
New Experience for a New YOU
Joining a social sports league can provide a new outlet for activity and socializing. Part exercise, part entertainment, and part social network, a social sport activity will give you something new to look forward to each and every week of the season.

Let's Get Phyical
Are you looking to boost your heart rate? Meet your fitness goals with a social sports league. Avoid the confines of the gym - instead sweat it out with friends over fun, organized games like volleyball, kickball, and flag football.  

Connect with all Types of People
Stop looking for new friends and just start making them! Participating in a social sports league turns participants into familiar faces you start to recognize each week at games. You'll soon realize you belong to a community where there are no strangers, just friends you haven't yet officially met.
 
Thank You for the Memories!
NAKID Social Sports has come a long way over the past decade, from a tiny little kickball league to a large & thriving community of fans, players, & friends. We've thrown some fantastic events, drank an inordinate amount of beer, and had more fun than anyone could kicking balls, grabbing flags & spiking nets. 
But what made NAKID so great are the people that came out season after season. We are so grateful to our players for creating a truly unique social sports experience in DC. To everyone who ever played, THANK YOU. 
Unfortunately, the time has come to finally hang up the NAKID banner. It wasn't an easy decision, but we think it is the best one. We're leaving our players in the fantastic hands of Volo City sports. They have vowed to carry on our mission to provide the best social sports experience DC has to offer. 
While NAKID will be no more, the memories will last forever. Thank you, DC!
~The NAKID Social Sports Team
---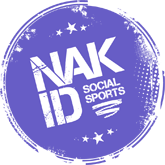 Austin - Charlotte - Washington, DC