Canceled
Wednesday Cornhole at Sauf Haus Bier Hall Cornhole · Co-Ed Social Sports in Dupont Circle
Canceled
MonTue
Wed
ThuFriSatSun
7:00pm to 9:00pm
Social Cornhole in DC
Team Fees

Early Bird

35.0

per player + 2.95 Processing Fee

Regular

45.0

per player + 2.95 Processing Fee

Late

55.0

per player + 2.95 Processing Fee
Free Agent Fees

Early Bird

35.0

+ 2.95 Processing Fee

Regular

45.0

+ 2.95 Processing Fee

Late

55.0

+ 2.95 Processing Fee

PLAY CORNHOLE WITH THE BEST LEAGUE IN DC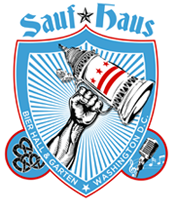 Be active, have fun and make friends! Join us with everyone's favorite tailgating game: Cornhole in DC! Always popular and a great way to ride out Winter season, but we mix in the most critical part: a fun social atmosphere at our sponsor bar before, during and after games! No experience is necessary: just arrive with a smile, a great attitude and ready to to toss one with us!
Games are played INDOORS on Wednesdays at the Sauf Haus Bier Hall in Dupont Circle. Games are played between 7:00 p.m. and 9:00 p.m. and run about 45 minutes. Register now!
OVERVIEW
Games start on Wednesday, January 24th.
Regular season game dates are January 24, 31, February 7, 14, 21 and 28.
Playoff dates are scheduled for March 7th.
FORMAT/RULES
This is a coed social cornhole league with an emphasis on social. This is NOT a competitive league. We're all here to have fun and make friends!
Players can join as Free Agents, small groups or teams. If you don't have a team or group, you can still play. Just join as a Free Agent and we'll place you on a fun team.
Minimum on game night is 3 players.
Games are first to 21 points, best of three games.
Substitute players are not allowed.
Please see our comprehensive DC cornhole rules (PDF file).
INCLUDED
Teams will play at least 5 weeks of regular season games and up to 2 weeks for playoffs.
Teams may play multiple games a night, with at least 8 scheduled games per season.
The number of teams in playoffs may vary.
Each player who registers by the deadline gets a t-shirt.
We provide all equipment. We also cover the costs of park/court/field permits (if applicable), parties, prizes and more.
In- and post-game happy hours are available at the bar each week.
SPONSOR BAR DETAILS
Our sponsor bar is Sauf Haus Bier Hall near Dupont Circle.
Specials include $2 off Spaten Lager, Spaten Marzen, Franziskaner Weissbier, Spaten Optimator, and Devil's BB Goldleaf.
Happy hour pricing is on Tito's Vodka Cocktails and pints of Austin Winds DRAFT CIDER.
TEAMS
Minimum team size is 4 and max is 8 players. Minimum on game night is 3 players.
Teams that don't reach the minimum must be open to accepting Free Agents and/or small groups.
Teams with less than the minimum number of players may be merged with another team.
T-shirts will be distributed the 2nd week of games.
OTHER INFO
Want to play for free? Become a referee or field prep! Contact us for more details.
All players must be 21 years old or older, have health insurance and agree to our terms and conditions.
Disrespectful and/or unsportsmanlike conduct will be dealt with swiftly and firmly.

* Game location is subject to change based on permit availability and other conditions.
** Plus tax.
*** Team roster sizes are built to reduce the risk of forfeits.

All times/dates/locations are subject to change.